Convert sitting time into "active time"

Convert sitting time into "active time"

Burn Calories at office or home

Burn Calories at office or home
Convert sitting time into "active time"

Convert sitting time into "active time"

Burn Calories at office or home

Burn Calories at office or home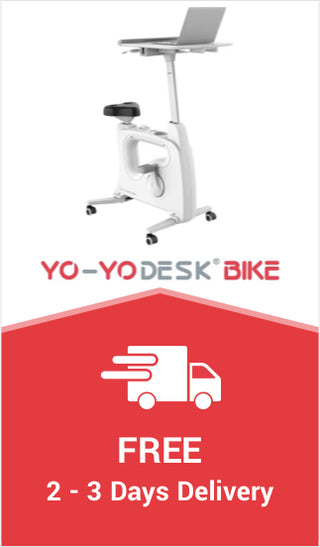 Why Yo-Yo DESK®?

UK's #1
Britain's favourite Standing Desk company
Telegraph Newspaper
"Best Buy"

Free Shipping & Installation
Free Shipping*
All standing desks installed free*
On all items, excluding desktops

Sustainability Certified
FSC Certified. Electric Cars. Renewable Energy

Eco Supply Chain
Recycled Materials. Recyclable packaging

Extra Offers
50% OFF Mats. £200 OFF if you spend £1,500

Free Shipping & Installation
Free Shipping*
All desks installed free*
On all items, excluding desktops

Bundle Offers
Save up to £100 extra if purchased with a Desk
Yo-Yo DESKERS
Join the workplace revolution with your standing desk. Keep moving for improved wellness and productivity.

Millions of Office Workers now enjoy the Benefits of Active Working. Join the Workplace Revolution TODAY
UK's #1
Britain's Favourite Standing Desk
1 in every 10 sit-stand desks sold, is a Yo-Yo DESK®
90%
of office workers in Denmark have a Sit-Stand desk
It's a legal requirement for every office worker
10 Marathons
Convert 2 HOURS of sitting to standing each day
to burn calories equivalent to 10 marathons over a year
Quick Info
What is a standing desk?
A standing desk also known as a height adjustable, sit-stand or stand-up desk, allows the user to work more dynamically in both standing and seated positions, and thus in a healthier manner.
Experts recommend regular change of posture and position throughout the workday to avoid the risks of prolonged sitting. Regular movement increases metabolic rate and oxygen flow to the brain so being more active at work is essential for good mental and physical health.
What is a standing desk?
An electrically operated standing desk, also known as stand-up desk, allows you to work effectively from both an upright and seated position.
The up/down movement is simple and swift, enabled using a power switch. With a memory setting you can store the exact height best for you when you are working whether standing or sitting.
How does a sedentary lifestyle affect your health?
The growing scientific evidence base warns us that extended periods of inactivity during our waking hours can have widespread detrimental effects to both our mental and physical health.
Mental health required great oxygen flow to the brain, and prolonged sitting directly leads to muscular degeneration, disrupted blood sugar levels, increased insulin levels, raised blood pressure, lowered calorie burn and slower metabolism.
For those of us who are more physically active – we still should not ignore the risks of prolonged sedentary working habits. Research from the Mayo Clinic shows that physically fit and active office workers also need to avoid prolonged sitting habits if they too want to reduce the risk of contracting heart disease, diabetes, certain cancers, back pain, dementia, and depression.
How height-adjustable standing desks improve your posture in the office / workplace?
Sitting for long periods at a time will lead to back pain, leg and hip aches and stiff shoulders. Adversely leading to poor posture (i.e., "C" shape)
You will notice the gently sliding down your chair and being slouched over your keyboard with head forward and rounded shoulders in what is known as 'poor posture syndrome'. Sitting in this "C" shape position puts strain on your spinal ligaments and discs.
Standing up at regular periods at your standing desk will improve your posture and encourage greater movement and mobility.
By lifting yourself to a standing position, you naturally align your spine to an "S" shape, engaging and strengthening your core muscles, opening up your shoulders for improved posture
Standing also improves your breathing by allowing the chest to fully open and expand the diaphragm.
WHY SHOULD YOU OPT FOR A Yo-Yo DESK® STANDING DESK?
There is a lot of choice available when buying a standing desk. Make sure you choose the best solution that meets your needs.
Yo-Yo DESK® is now the brand leader first introduced in 2014 by Gavin Bradley, founder of Active Working CIC and the Get Britain Standing® campaign. Gavin co-authored with leading scientists the world's first workplace guidance on prolonged sitting and recommended usage of standing desks.
This research was funded by Public Health England and published by the British Journal for Sports Medicine in 2015.
Gavin set out to develop Yo-Yo DESK® solutions which deliver:
Award Winning Design
Excellent value and highly affordable
Outstanding TV and Independent newspaper reviews
Longer warranties
Our electric standing desks enable you to transition easily between sitting and standing. This helps you work more healthily, more comfortably and more productively.
Stand-up working helps prevent or reduce back pain and Musculo-skeletal conditions. You will also experience higher energy levels and conduct routine tasks much more time efficiently.
Switching between sitting and standing throughout your working day helps reduce lethargy and fatigue, eases any joint or muscle pain, improves productivity, and means you can end the day feeling energised rather than wiped out.
Standing desks are increasingly popular and becoming the norm with screen-based employees, especially those who are used to spending 8 or more hours a day sitting down at work or at home.
WHAT ARE THE BENEFITS OF Yo-Yo DESK® PRO COMPARED TO OTHER STANDING DESKS?
Our executive range of Yo-Yo DESK® PRO electric standing desks are highly desirable being extremely robust and stable, due to a reinforced steel frame and feet.
They operate using Silent Motion™ technology, which means greater energy efficiency and come with a warranty of up to seven years. They also have a lift capacity of 150 kgs.
You can re-use your existing desktop or choose from a wide variety of finishes and shapes to create the perfect active working set-up for your home or office.
We offer a free installation service for all Yo-Yo DESK® PRO electric desk models. See product pages for full information on individual models.
KEY FEATURES OF A Yo-Yo DESK® PRO STANDING DESK
Yo-Yo DESK® PRO 2: Yo-Yo DESK® PRO 2 is our high-quality, German design executive electric standing desk. Powered by dual motors (2-step), it's suitable for users up to the heights of 185cm. The desk offers best in class stability, it has a lift capacity of 100kg. Each of our desks come with a 7-year Warranty.
Yo-Yo DESK® PRO 2+: Yo-Yo DESK® PRO 2+ is our high-quality, German design executive electric standing desk. Powered by dual motors (3-step), it's suitable for users up to the heights of 203cm. The desk offers best in class stability, it has a lift capacity of 100kg. Each of our desks come with a 7-year Warranty.
Yo-Yo DESK® PRO 3: Yo-Yo DESK® PRO 3 is our high-quality, German design executive L shaped standing desk. Powered by triple motors (3-step), it's suitable for users up to the heights of 185cm. The desk has a reinforced steel frame and feet that offer best in class stability, it has a lift capacity of 150kg. Each of our desks come with a 7-year Warranty.
Advantages of electric standing desk vs desk converters
An electric standing desk often includes a digital memory control switch so you can memorise your preferred height positions and easily operate at a push of a button
Using a height adjustable electric standing desk is smooth and silent. Consequently, they are more likely to be used more regularly and speedily than a hand-operated crank desk which you wind, taking 5 times longer to operate up/down.
Desk converters are suitable for retrofitting an existing work surface, rather than having to replace and existing desk with an electric standing
Having said that, many desk converter users upgrade to an electric standing desk once they have realised how effective and enjoyable it is to work from a standing position on a regular basis.
Yo-Yo DESK® users become more healthy, energised, and productive. Our customers frequently tell us they would never return back to their old static desk or prolonged sitting work habits. "I wish I'd started using a standing desk years ago," is a frequent feedback comment.
Expert advice about using a standing desk
Before getting started at a standing desk (or height adjustable desk) it is essential to first understand the benefits and best practice guidance on how to use it optimally. Yo-Yo DESK® founder, Gavin Bradley, is an international thought leader and donated much of his passion and time to the Active Working CIC social enterprise. Gavin hosts the annual international Active Working Summit bringing together scientists, stakeholders and workplace experts.
Gavin and key international experts recommend:
Take regular mini breaks throughout your workday, and make sure you avoid "prolonged sitting" for bouts of 30 minutes or longer

Also avoid prolonged static positions (sitting or standing) to maintain positive mental and physical health and remember "your best position is your next position"

When using a keyboard – always make sure your wrists are never ABOVE your elbows. And ideally not more than 2cm BELOW your elbows

Try to maintain a "meerkat position" when standing, but keep light on your feet, and use an antifatigue mat to promote more movement

Stretch, use the stairs and walk around (especially when on the phone)

Movement throughout your workday will help prevent aches, boost your metabolism and improve your wellness
Reasons for employers to buy height-adjustable standing desks
As an employer you have a legal responsibility to protect the health, safety, and welfare of your people. This applies whether someone works in an office, their own home or anywhere in the new "hybrid working" environment.
In Denmark, it is a legal requirement that employers provide office workers with a sit-stand desk, as they should not be expected to sit statically. But the benefits to any employer are far greater than meeting legal guidance.
Improved productivity gains for an employer investing in standing desk is a matter of weeks.
Reduced absenteeism also results from equipping your team with standing desks, as it reduces the risk of chronic back pain and lethargy or tiredness from prolonged sitting, especially in the afternoons.
Employee retention - staff increasingly see standing desks as a basic workplace requirement and not just available to those suffering from chronic back pain.
Employee wellness - showing that you value your team's good health also leads to increased staff retention, better productivity, and employee satisfaction.
Standing desks: questions to consider when choosing your height-adjustable desk
How much space do you have available?

Yo-Yo DESK® models come in all shapes and sizes, including corner desks and you can find a solution for any size or type of workspace. Our customer support team are all experts and will guide you in choosing the best model solution for your personal requirements and set-up depending on how many screens you have and how tall you are.

Certain ranges, such as Yo-Yo DESK® GO, Yo-Yo DESK® PRO 2, Yo-Yo DESK® PRO 2+, Yo-Yo DESK® PRO 3 are designed for taller users.

What other solutions should I consider?

We recommend you use a Yo-Yo MAT with all sit-stand desks and these are available free with certain desks. Remember also to think about seating options.

When evaluating seating options try to consider a stool as these will reduce the tendency to sit for prolonged periods and also encourage you to move your core muscles when seated.

I'm confused by all the options. How can I find the right standing desk for my office / home working set-up?

You can ask questions over our webchat service or speak to one of our expert sales team members for personal advice. Ask a member of the team for details of the best special offers, bundle discounts and corporate deals we have available.

Why are standing desks really worth investing in?

In addition to the numerous wellness benefits, there are many productivity improvements which you will enjoy. When properly used, (at least 2 hours a day) the economic payback on a Sit-Stand desk is a matter of weeks.

Studies also show employees can work up to 16% more productively when using a height adjustable desk. Then there may be added economic benefits resulting from reduced absenteeism, the lack of a post-lunch 'slump', increased energy, and less general fatigue.

Yo-Yo DESK® also offer FREE Education and Best Practice advice including Active Working Seminars to businesses investing in widespread deployment of our standing desk solutions.

WHY Yo-Yo DESK®?

Since we got going in 2014, it has been Yo-Yo DESK®'s mission to convert sedentary offices to active, healthy and productive workplaces, by creating the world's favourite range of standing desks.

Yo-Yo DESK® is the UK's #1 brand for standing desks and growing super-fast throughout the rest of Europe. Here are a few reasons why;

Our desks are high quality, durable and stylish. We offer a warranty of up to seven years and 30-day Money Back Guarantee

We have the widest range of active office solutions to suit all workplaces, needs and budgets

Our desk converters can be used straight out of the box; and our standing desks can be fully customised to your requirements

We offer FREE delivery and installation service in addition to 50% off all Active Feet solutions with each of our standing desks

We are a UK-based business with expert sales staff who pride themselves on ensuring you get the optimal solution to help you get moving

Our founder, Gavin Bradley, is the UK's thought leader on Active Working, dedicating much of his time to the non-profit advocacy and campaigns of Active Working CIC.